---
Restaurants in Orange Beach
Posted On Friday, October 18, 2019
---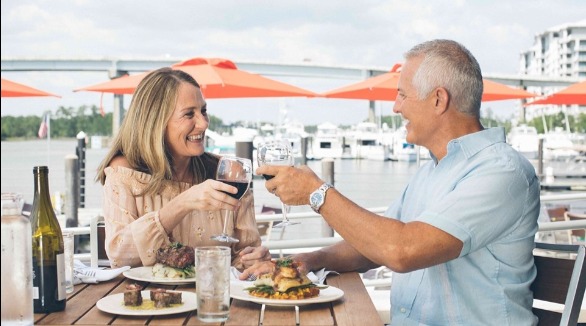 Dining in Orange Beach is a treat for your senses! The food is unapologetically delicious, the service impeccable, and the views of The Gulf of Mexico, back bays, and hidden coves are aplenty!
No matter what you're craving, these family-friendly and fine dining spots have you covered for breakfast, lunch, dinner, happy hour, and dessert.

Photo courtesy The Wharf
Tacos Every Day
Who says it has to be Tuesday to devour some tacos? No one in Orange Beach, that's for certain! From chorizo at breakfast to local seafood piled high on a tortilla for dinner and lunch, there are plenty of tacos to go around all day, every day! Grab one (or two or three or…well, you get it) any day of the week at these Orange Beach restaurants.
· Brick & Spoon
· Cactus Cantina
· YoHo Rum & Tacos at the Wharf
· Playa at Sportsman
· Tacky Jack's Orange Beach
· Chronic Tacos
Fine Dining (Island Style)
Nearly every restaurant on the Alabama Gulf Coast can be described as flip flop casual, but when it's time for a romantic evening out, a celebratory dinner, or to indulge your craving of a fine dining experience with a waterfront view, these eateries are the go-to places in Orange Beach.
· Villaggio Grille at the Wharf
· Fisher's at Orange Beach Marina (Upstairs)
· Louisiana Lagniappe
The Most Important Meal of the Day
We're guessing whoever said breakfast is the most important meal of the day wasn't on island time. We've got an array of restaurants serving breakfast for sure, but if you ask us, brunch is really where the fun takes place! Hop over to one of these spots for all of the French toast, pancakes, benedicts, bacon, sausage, and cheesy egg goodness your brunch-loving belly desires! And if you can drag yourself out of bed that early, then yes, breakfast too!
· The Ruby Slipper
· Cobalt the Restaurant
· Tacky Jack's
· Brick & Spoon
· Fin & Fork
· The Southern Grind Coffee House at the Wharf
· Café Beignets
· BuzzCatz Coffee & Sweets
Legendary
The food in Orange Beach is the stuff of legends! From fall-off-the-bone barbeque to fresh-off-the-boat seafood, the fare doesn't get more mouthwatering than that being served at our Alabama Gulf Coast restaurants. The views are magazine-worthy and the service is Southern hospitality at its finest. Here's a list of even more must-try restaurants in Orange Beach. Sure, you may have to take more than one vacation to frequent them all, but something tells us you're ok with that!
· Anchor Bar & Grill
· Barefoot Island Grill
· Blue Water BBQ Company at the Wharf
· Colbalt the Restaurant
· Cosmo's Restaurant
· Cotton's Restaurant
· Doc's Seafood Shack & Oyster Bar
· Fisher's at Orange Beach Marina (Downstairs)
· Flippers Seafood and Oyster Bar
· Gilby's Steak and Seafood
· Ginny Lane Bar & Grill at The Wharf
· GT's on the Bay
· Kilwins at the Wharf
· Luna's Eat & Drink
· Master Joe's Sushi
· Moe's BBQ
· Pirate's Cove Marina
· Pour at the Wharf
· Red or White at The Wharf
· Sassy Bass Caribbean Grille
· Shrimp Basket
· STKburger at The Wharf
· The Boat Bar at The Wharf
· The Flora-Bama Yacht Club
· The Gulf
· The Keg Lounge & Grill
· The Sandshaker at The Wharf
If your Orange Beach accommodations are at The Wharf Condos, you never even have to leave to get nearly any kind of dining experience you desire! For a full list of restaurants at The Wharf (plus events, shopping, and attractions), be sure to visit ALWharf.com.
Need a place to stay during your visit? Be sure to check out our special savings for free nights and more!
Comment on this post!