Wharf Rental Management COVID-19 Update
Gov. Ivey announced that the State of Alabama will move to new Safer Apart guidelines at 5pm on Friday, April 9 through Friday, May 5.
This will include the Oasis pool. It will also include the Levin's Bend lobbies and elevators. For additional information on the revised order made, please visit
All housekeeping staff and inspectors will be required to wear proper PPE during the cleaning of condos. To include protective masks and gloves.

All housekeeping products and cleaners used are approved disinfectant cleaners.
All laundry has been properly sanitized in a commercial grade laundry facility using approved disinfectant linen chemicals.
Our housekeeping team will provide a thorough cleaning after all guest departures to include but not limited to:
· Wiping down of all light switches, lamps, cupboard handles, doorknobs, banisters, remotes, and thermostats.
· Wiping down of all appliances, handles, buttons, face fronts, grills, vacuum cleaners and irons.
· Run all of dishes, pans and flatware through the dishwasher.
· Sanitize high-contamination sites. Bathroom toilets, sinks, tubs, showers and trash cans.
· Sanitize couches, chairs, rugs and fabric furniture with aerosol disinfectant.
· Replacing all air filters with new.
All condos will be inspected by a Housekeeping Supervisor and all entry door knobs, handles, locks, keys and keypads will be disinfected after inspection of the property to ensure additional sanitation.
*Hand sanitizer will be provided in our condos and we ask that each person properly sanitize their hands upon arrival.
*For the protection of our guests, housekeeping and maintenance personnel, we will not preform work in units that are occupied unless under emergency circumstances. We will do our best to troubleshoot these over the phone as needed.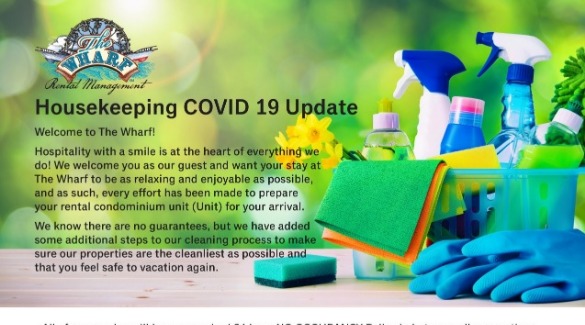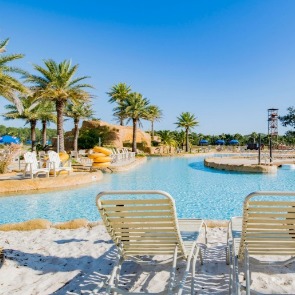 Spring Hours:
9am- 8pm. Tiki Bar hours may vary are subject to change.
· Maximum Pool Occupancy is 250 people
· Bring your own Float. There will be no Oasis floats provided for the Lazy River/ Wave Pool.
· Hammocks will not be available for use at this time.
· Hot Tub/ Spa will not be available for use at this time.
· No outside Food or Beverage. Please contact us directly about the hours of the Tiki Bar.
· Tram will NOT be running. You may drive or walk to The Oasis.
· Please practice Social Distancing. A minimum of 6 feet apart. Each person shall wear a mask or facial covering that covers his or her nostrils and mouth at all times when within 6 feet of a person from another household in any of the following places: outdoor public space where ten or more people are gathered. THIS DOES NOT INCLUDE WHEN YOU ARE IN A BODY OF WATER, though wearing a face covering or social distancing is strongly encouraged if safe and practicable.
*Information is courtesy of The Levins Bend HOA and subject to change. Please contact Wharf Rental Management prior to your arrival for verification of operating hours.
251-224-1500.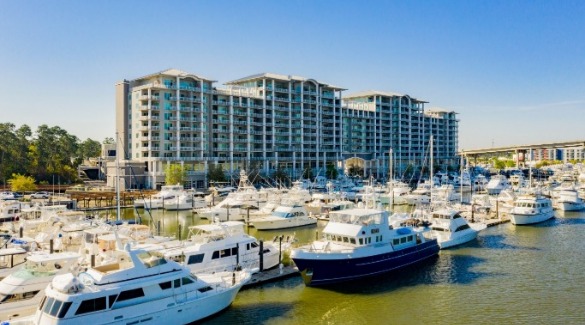 Levin's Bend Condominium
COVID 19 Revised Occupancy/ Visitor Guidelines
BRING FACE MASKS FOR INDOOR COMMON AREAS
In alignment with the state's "Safer at Home" order we are requesting that you and your guests bring face masks or face coverings with you/them for any planned visits to Levin's Bend. We are requesting that owners and guests wear their face masks when inside the common areas of the building.
LOBBIES & ELEVATORS
Notices in the lobbies request that owners and guests wear face masks when riding elevators AND limit the number of individuals in an elevator to 2 (unless all individuals are members of the same family or party), INDICATE BY AN X WHERE TO STAND in the corners of the elevator, and direct guests to wash or sanitize hands before touching the keypad in the elevator and leaving the elevator.
CLEANING AND DISINFECTING
In addition to our normal cleaning procedures, we have implemented enhanced efforts for 'high-touch' items across common areas of the building (i.e., door handles, handrails, lobby furniture, restroom surfaces, loungers, luggage carts, and elevator buttons to name a few). These 'high-touch' items will be wiped down with disinfecting wipes every 4 hours.
*Information is courtesy of The Levins Bend HOA and subject to change. Please contact Wharf Rental Management prior to your arrival for verification of operating hours. 251-224-1500